Man arrested in UK after police kill girl in Belgium car chase

UK news Man arrested in UK after police kill girl in Belgium car chase
Two-year-old Mawda Shawri was shot by Belgian officers during high-speed pursuit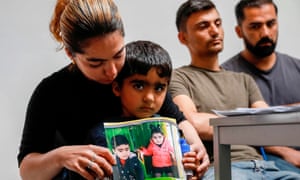 A 25-year-old Iraqi man has been arrested in the UK after his DNA allegedly linked him to a van in which a two-year-old girl was accidentally shot dead by a Belgian police officer during a high-speed chase.
Mawda Shawri was shot in the face as she sat on her mother's lap in the front seat of a Peugeot van carrying 26 adults and four children in May.
The vehicle was being driven by a suspected people smuggler in what Belgium's prosecutor general, Ignacio de la Serna, has described as "a dangerous high-speed chase over 60 kilometres [37 miles]".
The police officer, who is under investigation, had been trying to stop the vehicle by shooting at its tyre, a source told the Guardian. The driver fled the scene in the chaotic scenes after the shooting.
The prosecutor of Mons, Christian Henry, confirmed on Monday that an arrest had been made in England, and said the suspect's "DNA profile corresponds to the fabrics found on the steering wheel".
The federal prosecutor's office, which recently took over the inquiry, are seeking a European arrest warrant from the investigating judge.
Selma Benkhelifa, a lawyer acting for the parents of the dead girl, said her clients had been informed on Monday of the arrest and were willing help identity the man, although they hoped the investigation would not stop there.
She said: "They are supportive of anything that advances the investigation. It is hoped that the investigators will not stop ... You have to try to find out if he was really a human trafficker or if he was just the little hand of the network. And if that's the case, you have to try to go higher in the hierarchy."
It is believed the driver was taking the migrants, who would have paid around £5,000 each, to a lorry park in Belgium, where they were to be helped to attempt to board trucks destined for the UK.
A spokesman for the UK's National Crime Agency declined to comment.
Topics
Share on Facebook
Share on Twitter
Share via Email
Share on LinkedIn
Share on Pinterest
Share on Google+
Share on WhatsApp
S hare on Messenger
Source:
Google News Belgium
|
Netizen 24 Belgium