Belgium migrants: Girl shot after police van chase

Europe Europe Belgium migrants: Girl shot after police van chase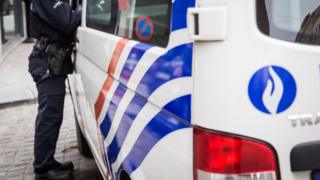 A two-year-old girl found with fatal injuries in Belgium aft er a police chase on Thursday died from a gunshot wound to the face, prosecutors say.
The girl was in a van carrying 30 Kurdish migrants which had been pursued for an hour in southern Belgium.
The chase, which began on a motorway near the town of Namur, involved a scuffle, police said.
A police spokesman said they did not know whether the fatal shot had been fired by a police officer.
A police investigation has been launched into how the girl died, including whether there were guns in the van.
An initial report from the emergency services had stated mistakenly that the cause of death was a head injury.
"The autopsy determined the cause of death was a bullet that entered the cheek," prosecutor Frederic Bariseau told the AFP news agency.
Belgian media reported that the girl, who was with her mother, had been held out of a van window -apparently to keep the police at a distance. Local prosecutors told the BBC they cou ld not confirm the reports.
The chase began just outside Namur in the early hours of Thursday morning.
The van drove west for several kilometres, evading police. Eventually it collided with another vehicle near Mons.
Police say the driver had jumped out to avoid being identified, and allowed the van to come to a stop itself.
It took 15 police cars and some 30 police to bring the incident to an end at around 03:00 (01:00 GMT) on Thursday. Police believe the van was linked to a people smuggling operation.
The dead girl belonged to a family housed in a migrant community at Grande-Synthe, near Dunkirk in France, French authorities said.
The 30 migrants found in the vehicle, 26 of whom are adults, are in custody and are still being interviewed.
A note on terminology: The BBC uses the term migrant to refer to all people on the move who have yet to complete the legal process of claiming asylum. This group includes people fleeing war-torn countries such as Syria, who are likely to be granted refugee status, as well as people who are seeking jobs and better lives, who governments are likely to rule are economic migrants.
Top Stories
Prince Harry and Meghan married at Windsor
Hundreds of guests watched the couple exchange vows in a ceremony featuring a gospel choir and an American preacher.
19 May 2018
Cuba crash plane's black box recovered
19 May 2018
Cuba plane crash site 'very painful' scene
19 May 2018
Features
Royal wedding in pictures
Video
Bishop Michael Curry: The full sermon
Meghan's pageboys and Toronto 'royalty'
In pictures: The guests
Volcano's dramatic images explained
A priest and his political billboards
To vote or to veto Venezuela's election
Iranian women threw off the hijab - then what?
Video
Strong man does delicate tasks
Why you can trust BBC News
BBC News Services
On your mobile
On your connected tv
Get news alerts
Contact BBC News
Source:
Google News Belgium
|
Netizen 24 Belgium